Princess Saffron was one of the first Lala-Oopsies to be released. 
Personality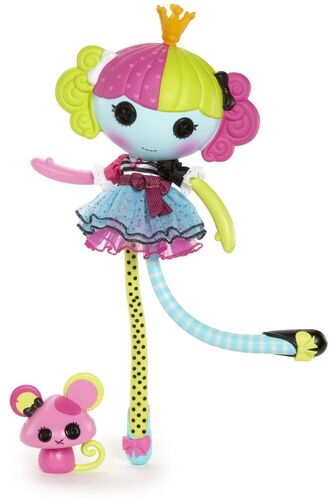 Princess Saffron is the Princess of Hugs. She's warm hearted and kind and caring and loves making treats for all her friends. In fact, sometimes she cares so much that her feelings get mixed in with the batter, so her sweets and treats  always taste best when she's happy.
Appearance
Princess Saffron has teal colored skin with dark, rosy cheeks. She has black button eyes and an orange crown on the top of her head. She has two swirly pigtails on each side of her head. The pigtail on the right is lime with a white bow, and the pigtail on the left is pink with a black bow. She has nearly straightcut bangs, that are pink with lighter pink spotted hearts on the right side, and lime on the left side. She has a light pink right arm and a lime left arm. The top of her dress is black and white with two pink buttons. The sleeves are pink on the right side and black on the left side with white ruffles at the ends. She has a marroon belt with a bow on it in the middle of her dress. At the end of her dress is a tutu, with blue on top, and pink on the bottom, with glitter flecks on them. Her right leg is neon lime with black polka dots, and her left leg is white and baby blue striped. Her shoes are ballet slippers, and the one on the right is baby blue with a pink ribbon, and the one on the left is black with a lime ribbon.
Princess of.....
Hugs!
Pet
Saffrons pet is a Mouse which has a dark pink body and a lighter pink head. It has dark pink spots arcross its head. It has black button eyes and a cross for a mouth. Its right ear is green with a light pink centre which is covering up most of the green. Same, case with the other ear, although it is dark pink with a green centre, accompained by a little black bow.